My husband has been asking me to make him something for quite some time. He would love a road cycling Lycra jersey but I don't feel confident enough for that project yet. We settled on True Bias 'Hudson Pants'. As soon as he saw the pattern it was an instant yes from him. He likes to have joggers to wear around the house so this pattern is the ultimate secret pyjamas for him!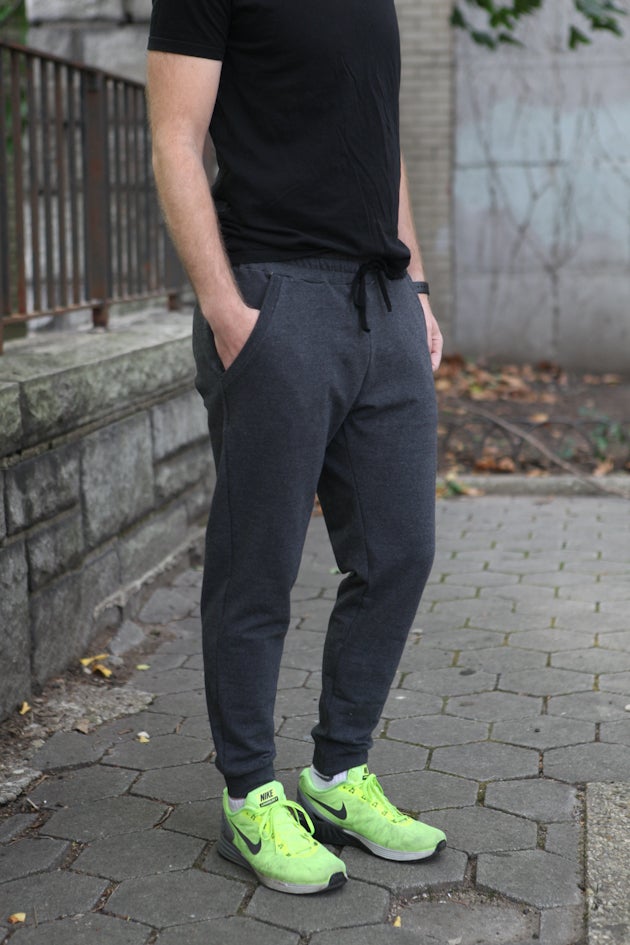 The Supplies: My hubby requested fabric that was lightweight so that ruled out fleece lined sweatshirt fabric. I picked up this loop back Marl Effect Cotton Stretch fabric online from tiaknight fabrics. It was in the clearance section at £3.99 per metre. The pattern requires 1.8m of fabric so I ordered 2m. It arrived in 24 hours – what a service! I prewashed the fabric and also tumble dried to shrink it as much as possible.
The Pattern:  The pattern was a PDF pattern and I printed it off and taped it. I've used the True Bias Ogden cami pattern and the sizing with these patterns are true to size. Using the measurement chart he came out as a size 30 which he also his usual size. My fabric was 161cm wide do I needed a lot less than the pattern states. I have plenty of fabric left to make a pair of shorts as a hack. The True Bias website has a sewlong for these Hudson pants which is a great place to go when you need a little more guidance.
The Sew: The instruction are clear and concise. The illustrations show you exactly what to do which I love. The pocket detail was simple to add but gave a great touch to the trousers. This instructions tell you how to sew them on a normal machine but I would like some indication of when to finish the seams with an overlocker. I understand that jersey doesn't fray so it isn't necessary to finish every seam however this fabric did disintegrate a little at the edges. The front of the waistband has a mock tie that comes from two buttonholes. This was the first opportunity I've had to use the automatic buttonhole feature and it is brilliant!!  After adding the elastic the instructions tell you to pin in the gathers. I skipped this part and then regretted it. One side had amazing gathers and the other side was just stretched. Out came the seam ripper and I had to top stitch over the elastic again. The ankle cuff use a section of the same material, so no need for tubular ribbing. When inserting them you need to stretch the cuff as they are slightly shorter than the legs so I machine basted them in before overlocking them.
The Finished Trousers: These trousers are a huge hit! As soon as he put them on he didn't want to take them off. I have a feeling they are going to become a favourite of his and I'll be asked to make more. I've already to make a cropped shorts pair for the summer.
The fit is a slim leg trouser which fits my huband's figure perfectly. I have suggested to shorten them slightly but he prefers the longer length and with the tight ankle cuff they look great around the ankle.
Another success from True Bias! These patterns are becoming staples of both our wardrobes.
Adelle x